Back to news menu
Jules moves on from ATG Training
Posted on in Cycles News
After 15 years at the helm of Cytech at ATG Training, Julian Thrasher (aka Jules), is moving on to a new role at Madison. During his distinguished time at ATG Training Jules spearheaded the development of the Cytech range of bicycle maintenance courses, having helped create and evolve the course content and structure to keep Cytech at the forefront of cycle maintenance training worldwide.
Julian's infectious and infamous teaching style has been a key part of building Cytech into the internationally recognised brand that it is today, and it's great for the cycle trade that his passion, drive and in-depth knowledge of cycle maintenance training will continue in his new role at Madison.
Matt Grant, ATG Training's sales and marketing manager, managed to catch up with Jules before he tidied up his workshop for the final time in Oxford, to look back at his time at ATG Training and find out a little bit about his new role at Madison;
Jules, you joined ATG Training to deliver Cytech 15 years ago. How has the cycles market changed in that time?
In a couple of ways really. It's become much more mainstream – it's great to see the increase in cyclists on the road and trails and it being a recognised career, something I could only have hoped for when I was younger. It's also got way more technical, using a phone to adjust your gears? Bonkers!
What sort of impact has Cytech training had on the cycles sector?
A positive one! When I man the stand at the bike shows, it's always great to see people who attended the Cytech training courses having advanced through the trade to some quite high up positions working with the likes of Zwift and major race teams, or setting up their own businesses and being successful. I'm really proud to think that I've played a small part in that.
Where do you see Cytech/ATG Training going in the future?
I know there are a few exciting plans in the pipeline so, watch this space!
How has the role of a trainer changed?
Keeping abreast and accepting change. Cycling is a sport of tradition, but products are changing at such a pace that it's important to accept them. E-bikes are a prime example. They are here to stay and it would sorely limit us if we weren't to have an e-bike course to help people service them.
You see hundreds of current and future mechanics coming through the training centre, have there been any changes in the kinds of people coming through?
Not really, everyone coming through the doors has been passionate about the subject and keen to learn and better themselves. It's always a pleasure to train!
What one piece of advice would you give to anyone wanting to train to be a mechanic?
Be open to advice. No one knows everything and adopting that mindset will be severely limiting in the future when it comes to working on new products.
What have been the biggest technical changes?
There's the obvious ones of e-bikes and electric gears so we'll go with those.
How would you describe your personal contribution to Cytech and the cycles sector?
I'd like to think that I've helped people both start and progress through a career in cycle maintenance and have helped with the constant improvement and development of the courses and course material.
Tell us about your new role at Madison?
I'll be working with the Shimano Technical team training people to the highest standards in the latest Shimano products. I'm grateful to have had the opportunity to hone my delivery skills with ATG Training and hope to see many familiar faces in my new role!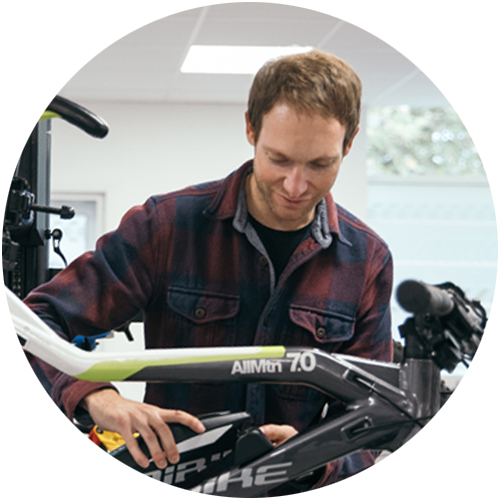 Courses being delivered in the state-of-the-art Oxford workshop will continue to be run by Cytech trainer Mike Sullivan, who has been working alongside Jules for a number of years and has plenty of experience in the cycles trade to boot.
To book onto a course you can use the course calendar here, or alternatively get in touch with ATG Training on 01865 550 324 or at cycles@activatelearning.ac.uk.
Useful links

If you have any other queries please contact us.